Our fishing charters can offer some of the best sport and game fishing on the South Coast.
Choose from Island, reef, game, sports or surface fishing and a wide range of fish, with over 30 years local experience.
Sponsored by Daiwa Fishing Tackle Australia, our fishing charters offer the chance to use the latest rods and reels and technology on the market and with 2 purpose built fishing boat and local skippers we have a range of charter options and can cater for small and large groups, private & shared charters. We supply all tackle, bait, fishing licence, light refreshments  and we will also give you a hand to clean your catch!
Fishing Charter Options
You can view our selection of fishing charters and make a booking through our website.
Our Fishing Charter options from Narooma are: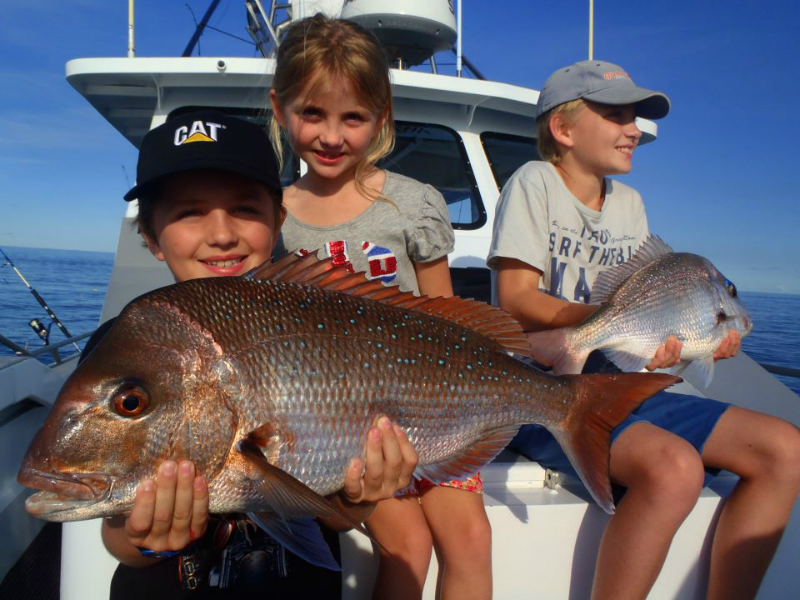 What you will catch on your fishing charter, depending on your chosen location:
Either going to the Island fishing for:
Kingfish
Bonito
Morwong
Snapper
Flathead
and other Reef Species.
Or fishing one of our other close reefs or trying the deep water fishing, bottom of the continental shelf to catch:
Blue Eye
Tasmanian Trumpeter
Hapuku
or a variety of other Deep Sea Species.
Or fish the surface for Pelagic and Game Fish:
Marlin
Yellowfin
Bluefin
Albacore
Shark
Dolphin Fish
Broadbill
What is Included:
• All Fishing Tackle & Bait   • Ice   • Fishing Licence
• Light Refreshments    • And we will give you a hand to clean your catch
2 purpose built fishing boats, with toilet facilities. 
Important Information:
Yellow Boat Shed, Mil Bay Boat Ramp, Narooma
Bring Your Hat, Jacket and Camera
Fishing equipment we use and recommend
You can also read about the fishing equipment we use and recommend article: Fishing Products for Game and Reef Fishing in Narooma
Narooma Fishing Gallery
A fishing charter is a fishing trip run by an experienced captain along with additional crew members on a boat. The company provides boats and equipment needed to have a fun experience onboard. You set sail on the water for a set time with the expectations of catching a fish. Fishing Charters are rented at set prices depending on the time period, or they can be customised as per the unique needs of your group. You can choose from different packages on offer and pick the one that best suits your needs. 
With the local fishing experience, equipment on rent, and personalised services, fishing charters allow you to have a stress-free day for everyone to enjoy, especially when planning a group excursion. A fishing charter is perfect for people with all levels of fishing experiences and offers a far better experience than what a local boat rental may provide.
If you have never been on a fishing trip or are exploring this area, you might be wondering what to expect on your fishing charter.  Many first-timers do not know that the entire trip is not spent on just fishing. For the best experience, you need to be patient. The captain will boat out to a certain spot where you will have the best chance of catching fish. You'll drop a few lines in the water and wait. The captain may take you to additional areas too to maximize your chances.
When you hook a fish, the captain and crew will help you with whatever you may need, such as extra strength to reel in a really big one. in some situations; you might have to cut the line and allow the fish to go. Our crew will get your rod ready for another attempt if it happens. 
Even though the main focus of charter is on fishing, it is the experience you make of it. We ensure you enjoy the warm sun and the sea breeze. The beauty of the vast ocean offers a sense of serenity that makes people want to go back into the water often.
We supply everything you need for a great fishing experience, such as fishing rods, bait, reels, tackle, and safety gear. You can bring personal items such as sunglasses, a hat, camera, sunscreen, wallet, and wear clothing and footwear that you are comfortable in. You are also free to bring your own fishing gear if you prefer. You can also bring some snacks and drinks to keep your strength up as even on cooler days; the sun can be quite exhausting. However, we can also arrange catering if needed. You are welcome to bring alcohol on the boat. However, it is important to be considerate of other people as our group is made of lots of people. If you have booked a private charter, we recommend not having more than a can to be at the safe levels when you are out on the waters.