Reef Fishing Charter Narooma NSW
Narooma is among the best destinations in Australia for reef fishing. The best part about fishing here is that it is very close to Montague Island, just about a 20-minute boat ride. It means more fishing time and less travel time to the best location for fishing. We offer well-maintained and quality fishing equipment for reef fishing. 
All our experts are passionate about what they do and will help increase your chances of a productive fishing trip. There are varieties of fish found in the beautiful reefs. You can expect fish catches of Snapper, Wrasse, Morwong, Trevally, Leatherjacket, Flathead, Bonito, all year-round. Any time is just great to get out into the waters, dangle a line and enjoy a great catch. 
When you hook a fish, our captain and the crew will help you with whatever you might need. The captain will take you to the best spot where you have the best chance to catch fish. We might decide to take you to additional areas to maximise your chances.
Come aboard one of our two purpose-built reef fishing boats with toilet facilities. Our reef fishing charter offers you the best reef fishing experience on the South Coast! Not just that, we ensure you get to enjoy the warm sun and sea breeze. 
Reef Fishing Charter Options
We offer everything you need – boat and equipment needed for you to have a great experience on board. We provide reef fishing charter for a set period of time, depending on your unique needs. 
Choose from a wide selection of reef fishing charter options from different packages on offer, including –
With our local fishing experience and personalised services, we allow you to have a stress-free day for everyone to enjoy. Our charters are perfect for all levels of fishing experience and offer a much better experience than what you would get with a local boat rental.
What is Included:
• All Fishing Tackle & Bait     • Ice      • Fishing Licence     • Drinks (water and soft drink)
  • We will give you a hand to clean your catch
We depart in the morning or afternoon from the Yellow Boat Shed, Mill Bay Boat Ramp.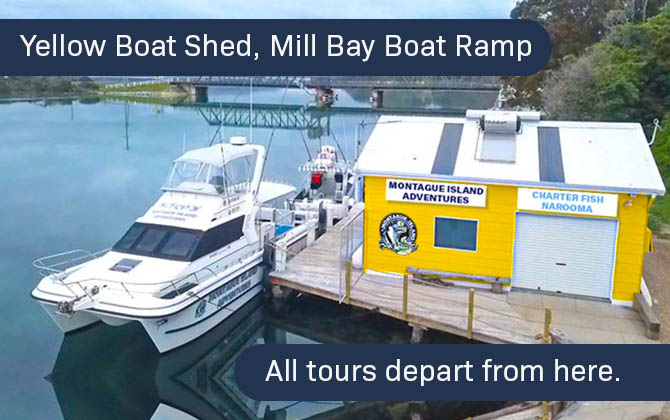 Book Your Reef Fishing Charter Today!
Whether you are a first-timer or have years of fishing experience, you are going to have a lot of fun on our reef fishing charter. 
You catch them, and you keep them – provided they are of legal size and do not exceed the limit set by NSW Fisheries Department. 
Have any questions about our reef fishing charter? Give us a call or send us an email, and we will get back to you at the earliest.
BOOK NOW